MDN 1L Bottle and Thistle Issue
MDN operators may have noticed some recent issues with the MDN sample bottles and the glass thistle bulbs. Due to the ongoing supply chain issues, we had to purchase the 1L PETG bottles from a different supplier. Unfortunately the mouth of the new bottle is slightly larger than the previous bottles, as a result the bulb on the thistle tube can fit into the bottle opening. As a temporary solution, starting this week, the HAL is shipping out an extra cap in each cooler. The caps have been drilled out and cleaned for use. Continue to use the new bottles, and line up the widest part of the bulb with the bottle opening.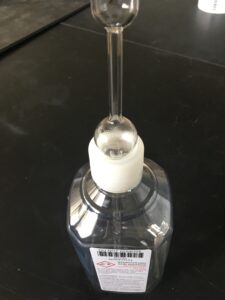 Drilled Bottle Cap Procedures:
Remove previous weeks sample bottle as usual.
Place the new bottle in the collector, loosen and remove the cap. Store in bottle bag.
Screw on the drilled cap.
Install the glass funnel/thistle train, adjust the bottle height to allow the bulb of the thistle to sit on the cap.
When the sample bottle is removed the following week, remove drilled cap and replace the original cap on the bottle. Send the drilled cap back in the cooler to be cleaned and reused.
Refer to the this document for more details.